​
Mark, thank you so much for taking the time to allow us to conduct this interview – to start, can you tell us a little bit about yourself?
I left Scotland in 2000 and came to British Columbia with my wife. We settled in White Rock and lived just round the corner from South Surrey Athletic Park, and have continued to live in the South Surrey/White Rock area for the past 15 years with our 2 young boys.
Can you expand a bit on your playing and coaching background?
I began my youth career playing with local community clubs in Scotland, and eventually progressed to the youth system at Ayr United for 3 years. Thereafter, I played semi-professionally in the Scottish Junior Football League with Troon FC for 7 years before coming to Canada where I played with Coastal FC Mens Premier Team.
These days I continue to play on Coastal FC Masters team.
I started coaching for Coastal FC (Peach Arch/Semiahmoo SC) in the summer of 2000 and over the next several years went through the process of obtaining my coaching certification.
I completed my CSA National "A" License in 2008 and continue my education by attending various conferences and courses each year to keep in touch with the latest developments in the game. My coaching and playing involvement with the club is now entering it's 16th year, and it's been a privilege to have been part of it's growth and development over this period of time.
How did you get into coaching – what was the defining moment that made you realise this is what you wanted to do?
I began coaching within weeks of arriving in Canada after a chance meeting with, Darryl Jones, who was a board member at Coastal FC (Peach Arch SC/Semiahmmo SC).
He introduced me to other members in the club and before I knew it I was coaching a U11 house team who had no coach.
The more involved I became in coaching during that first couple of years, and as I recognized I was coming to the end of my competitive playing career, I realized coaching football was something I wanted to pursue as a career.
Who was / is your biggest influence?
My parents have been my biggest influence. I've watched them work incredibly hard all their lives.
They've shown me that if you want to achieve things in life you need to work hard for it, so it just became normal for me to put in long hours no matter what job I've had. Their desire and commitment to working hard has instilled a strong work ethic in me and it's something that's helped me throughout my life, and in particular, in my role as a TD.
From a footballing perspective, an obvious choice would be Sir Alex Ferguson who also shared the same working class background as my parents, and possessed a strong work ethic to achieve what he has done in the game.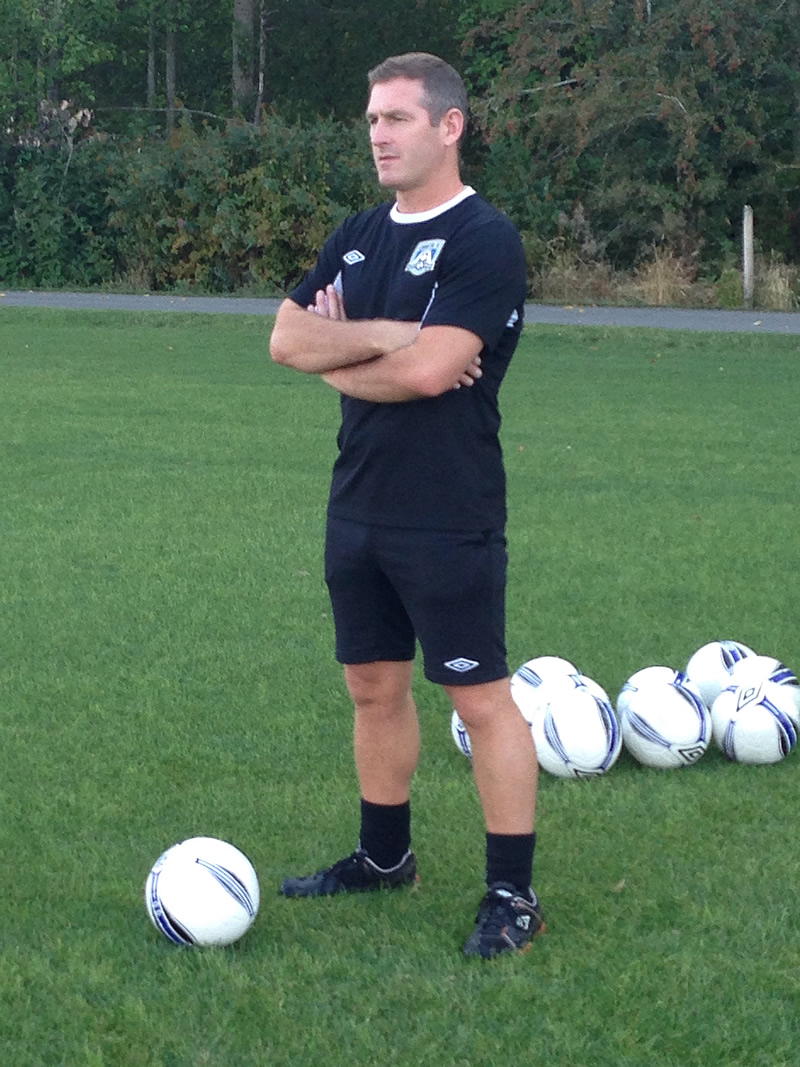 There seems to be a bit of a misconception on what a Technical Director actually does – can you shed some light on what your typical day is like when you have your TD hat on?
Depending on the structure within any given club, the roles and responsibilities of a Technical Director can look very different.
In my world, I accept there is no specific start time or end time and I'm generally accessible to our members whenever I'm awake. This is more an expectation I put on myself rather than something that's placed on me by others.
Unfortunately for family and friends, I tend to be obsessive about the job and working in general. The needs of our players, parents and coaches typically shapes my day.
In general I spend my day answering emails, phone calls, and attending meetings of a technical nature.
In the evenings I'm on field providing support to coaches and players in whatever capacity is necessary. This could be coaching players in sessions, or supporting coaches in their development.
When I'm not ingrained in the day to day operations of the club, I'm designing or working on strategic technical initiatives. This is anything from providing more playing opportunities, improving the efficiency and quality of what we currently do, or designing new programs/literature that support and educate our members so their experience at Coastal FC is a positive one.
"In general I spend my day answering emails, phone calls, and attending meetings of a technical nature." - There must be days where you need to be mentally strong and push through the admin stuff which leads into this question: is enough attention being made towards the mental side of the game? We can have all the technically gifted young athletes in the world but if they don't have situational awareness or the willingness to face adversity head on, have we missed the boat with our players?
Some people might think the mental side of the game only becomes a factor when players reach the elite level of play. However, the mental development of a player starts very young and both coaches and parents have a role to play on and off the field.
Players who are encouraged to express themselves, take risks, and reassured that it's okay to make mistakes should develop into confident and self-assured players who can better manage setbacks they might be faced with.
Coaches and parents need to have awareness that every statement will have a positive or negative affect on a player's development.
With every comment they make, they need to ask themselves, "did I top up the players confidence, belief and self-esteem or did I drain it?"
By the time players get to a competitive level of play, many coaches are dealing with players who are lacking confidence and afraid to make mistakes as a result of their past experiences.
If we can develop players high in confidence, believe and self-esteem, hopefully we will have players who feel good about themselves, and therefore more likely to play good.
In contrast, players who experience blame, shame, and fear to make mistakes are unlikely to perform to the same level or have the ability to overcome adversity.
My point is, we shouldn't wait until players are playing at a competitive or elite level before we focus on the mental side, it starts as soon as they enter the game.
In your experience, what are the biggest challenges Technical Directors face today?
I'm certain the challenges are varied from club to club. However, I think the biggest challenges TD's face are:
Roles and Responsibilities
– Many TD's can get bogged down in the day to day administrative and operational duties that prevent them from focusing on what they are hired to do – provide long term development and education of coaches and players.
Systems, programs and resources need to be created to support development. Simply going out to the field and running sessions for coaches is not beneficial long term, and it has little impact.
The key is to provide the coaches with the skills and resources to develop the players; not rob them of coaching hours and opportunities to learn.
In essence, TD's must find ways to teach the teachers.
Where possible, clubs should provide an administrative structure that frees up the TD to work on strategic technical initiatives that can be transferred onto the field and have a meaningful impact on the players and coaches long term. This structure can be hard to achieve and may not even be possible depending on the size of club, but where it is possible, it will take time and a common vision.
Parent and Coach Education
– While TD's understand "long term player development", this can be a difficult concept for many parents and coaches to grasp.
The challenge TD's often face is an adult driven, competitive race to create the best players and best teams to get the best results right now.
Science tells us that players develop while moving through various developmental windows over a long period of time. However, many parents believe their son/daughter won't develop unless they are on the best team, with the best players and winning the most games immediately.
Subsequently, young kids are driven across town looking for the next best thing and pushed to achieve parental dreams instead of their own. Many parents decisions are clouded by bad advice, social pressure, fear and guilt.
Despite the vast sums of money and time spent in the car, most players eventually return to their club of origin a year or two later and are no further ahead of their peers.
Why? Because they were not ready to develop.
Physical maturation occurs at different times in each individual and the outcome of growth and development especially through puberty is unknown.
Developing players takes a long time and a lot of patience; and no matter how hard parents try to force development, they need to know that science will play a major part in the timing and outcome.
It appears that we are identifying players at younger ages nowadays but what about those that develop at a later stage – late teens – are they missing out?
In my opinion, players who possess the ability to be top players will rarely be missed even if they happen to develop in their late teens or early 20s.
There are many examples that have helped formulate my opinion on this subject.
Players like Ian Wright, Didier Drogba and Jay Demerrit who went onto become top players for their countries were plucked from amateur or non-league football in their early 20s.
There are countless other examples of late developing players who made a good career for themselves. However, making it to the professional level and staying there is a fine line for so many others, and for many, it comes down to 1 significant factor: Does the player's attributes match what the coach looks for in a player?
Every year we see examples of new managers coming into a club who will sideline, replace or even end the career of a player who might be a starting player for another coach.
This situation occurs at every level of the game.
It's not necessarily about right or wrong decisions, it's simply an opinion.
I'm sure there are many late developing players at the top end of amateur or semi-professional football who are interchangeable with those at the bottom end of the professional game.
This has been proven time and again. However, whether they are identified as good enough to make it professional and stay there comes back to the opinion of the decision maker, and opinions will always vary.
Modern day football is big business with the top clubs turning over every rock in every country in a race to discover the next star. Scouting networks are sophisticated and worldwide these days, and those with the most potential are snapped up quickly.
Meanwhile smaller clubs with lesser budgets will focus on developing local talent, and will hope to find late developers or missed potential in the amateur and semi-professional system.
Unfortunately, the absence of a semi-professional league in Canada restricts the ability to nurture late developers and remains a massive hole in the Canadian system.
In summary, I don't think there are any late developing would-be superstars missing out, but I'd suggest there are many who are interchangeable with those at the lower end of the professional game and they just need someone to give them an opportunity to see where it goes.
What about coaches? Are there enough opportunities in Canada to become a professional coach?
I think there are more opportunities now than there were 10-15 years ago. Clubs in many areas have grown over the years and this has created an unsustainable work load on volunteers.
The introduction of LTPD and expectations for quality service delivery among members has seen many clubs hire professional staff in order to meet the demands of servicing an expanding club.
Ultimately the size of the club determines whether positions are full time or part time, however I think the hiring of professional staff in any capacity is a step in the right direction.
While there are many opportunities to coach football in a part-time capacity, opportunities to go into full time positions are certainly more limited, especially if you have a family to support. It may take several years of patience, building your resume and working two jobs before the opportunity to transition into a full time position is possible.
What are your thoughts on the LTDP and what type of support are you getting from the governing bodies (both provincially and nationally)?
Most countries these days have their own version of LTPD and I think it makes a positive contribution to the overall education and development of coaches and players in the clubs who have chosen to embrace it.
The key to its success is getting clubs to not only say they are adopting it, but to put professionals in place, who understand it, believe in it, and break it down in such a way that coaches, players and parents will follow it.
As mentioned earlier, getting the concept of
LONG TERM
player development across to coaches and parents can be challenging in many instances.
In general, the governing bodies are relying on TDs to embrace and deliver LTPD within their respective clubs.
Canada is obviously a massive country and I'd suggest it's a challenge for the governing bodies to have a presence inside each and every club in the country. Some of the smaller countries in the world have Football Development Officers who are responsible for supporting and building links between clubs, schools, colleges and universities and the promotion of LTPD within their assigned region.
However, I can see why this would be difficult for a country with the geographical challenges that exist in Canada.
Thanks again Mark for your time and insightful remarks! One final question - Fantasy moment: You are in charge of overseeing player development throughout the country and money is no object – what is the one thing you would do/change to improve the system in place now?
It's a difficult question to answer and a very challenging task.
As with the model described above, I would create regular CSA outreach/leadership in the form of a Football Development representative who is connected to every club, school, college and university throughout the country.
Each CSA representative would be responsible for supporting the development of football within their assigned region, establishing links between each organization, and ensuring each organization was supported in the implementation of LTPD.
Furthermore, they would support community clubs to meet a standardized organizational club structure that would allow clubs to be the very best they can be.
Within the club structure, each club would be supported to meet a list of criteria with templates for improving planning, administration, management, development structures and best practices that would all contribute to a better environment for developing players.